General Information(English)
General Information
Philosophy and Goals (Educational Policy)
Diploma Policy (Policy on Award of Academic Credentials)
The goal of Kobe Shoin Women's University is to nurture responsible adults capable of contributing to society with a feeling of compassion for others through the education of women founded on the spirit of Christian love. Towards this end, the policy of Kobe Shoin Women's University is to educate its students until graduation in the capacities described below, and then to award those who are successful with bachelor's diplomas.
Profile of Faculties and Departments
Faculty of Letters
Department of English : English Professional Studies Program, Global Communications Program
Focus: To improve students' command of English for future application and help them to be active within a diverse society.
For students to be active on the global stage in the future, English language skills (listening, speaking, reading and writing) will be essential. Accordingly, the Department of English at Kobe Shoin Women's University offers comprehensive training in the English language in two programs, English Professional Studies Program and Global Communications Program. These specialties exist to address the different career/life choices available to students after graduation as well as each student's preferred content for English language study. The department aims to develop experts with advanced skills in English language for use in international society. All students who want to study abroad are able to do so and substantial study-abroad scholarships are available. It is where students take their first step towards becoming true international citizens, capable of succeeding on the world stage.
Department of Japanese Language and Culture : Modern Japanese Language Course, Japanese Culture Course
Focus: To study diverse events in Japanese culture and the role of the Japanese language in various areas of modern society.
What do we understand of "language" when we take the Japanese language as a reference point? Changing times and social conditions, the changing significance of words and language itself, regional dialect and formal keigo (the Japanese form of honorific expression), technical terminology and spoken vernacular; all such forms bear witness to the diversity of the Japanese language. The Faculty of Letters Department of Japanese Language and Culture has two programs, Modern Japanese Language and Japanese Culture. Why not discover something new and fascinating about Japan by learning its language and understanding its culture?
Department of Literary Arts: Literary and Creative Arts Course, Media and Mass Communication Course
Focus: To study through experience a diversity of familiar cultural arts activities including painting, poetry, film, theater, music and creative writing.
Creative writing, music, painting, theater, photography, film, advertising and poetry; all these disciplines are liberal arts. In the Department of Literary Arts, students will enjoy every one of these activities from a variety of perspectives, and the aim is for each student to express herself with clear language while she studies. The liberal arts are tools for an international understanding that transcends international borders. By broadening student horizons, cultivating sensibilities and acquiring practical expressive capacities, students of the Department of Literary Arts will acquire the skills to be able to determine their own path for the future.
Faculty of Human Sciences
Department of Psychology
Focus: To acquire the knowledge and techniques required to address the mental issues faced by people in modern society from all perspectives.
A modern society of rapidly increasing complexity draws sharp focus on the "mental issues" of the persons who live in it. Such circumstances give rise to a demand for experts who are thoroughly versed in the workings of human psychology and who possess the knowledge and skills to be able to confront the human mind. In the Department of Psychology, students will not only learn evidence-based research techniques for the study and analysis of the behavior of the human mind, they will also learn the knowledge and skills necessary to resolve the psychological issues of people through a variety of practical exercises.
Department of Urban Life Studies:Urban Life Studies Program, Food Business Program (April 2017-)
Focus: To acquire skills to deal with familiar problems related to people, things and lifestyle, and to develop the strength to understand the changes that occur in both urbanized and urbanizing societies.
Our "lifestyle" changes with the movements of time and society. The human action of each individual is born of personal agency. It is now 17 years since we entered the 21st century, and the urbanization of our everyday lives continues its progress. Focusing on the connections between people, things and lifestyle, and through a wide range of perspectives and methods, students in the Department of Urban Life Studies inquire into the strange and diverse issues hidden in casual everyday life. In the two newly-established programs, they also learn the skills required to create and describe new values and perspectives on life.
Department of Food Science and Human Nutrition [Registered Dietitian Training Program] (April 2017-)
Focus: To qualify as a Registered Dietitian, and to acquire knowledge of both safe and nourishing dietary habits and the management of people's health.
Food has a significant role to play as a means of enriching peoples' lives. The taste of food is of course important, but is the quantity and nutritional content of that food appropriate? And are the ingredients it is made from safe? The elements to realize a rich dietary life encompass a broad range of topics. Students taking the Nutrition course will aim to achieve Registered Dietitian status. In small and interactive classes, students deepen their understanding of food and nutrition, health science and bodily function, and acquire the practical skills to manage people's health through their dietary lifestyle.
Department of Child Development: Primary Education Course, Early Childhood Education Course
Focus: To help students fulfill their ambition to become an educational facilitator by learning all about children and how to support a child's rich and productive development.
Children are our hope for the future. But the environment faced by children is constantly changing. There is currently a call for people who can provide education and direction for both a healthy mind and a healthy body. This course adopts a comprehensive approach and includes elements of both psychology and development. Students on this course are studying towards a Child Care Person Certificate, a Kindergarten Teacher Certificate (Type A) or an Elementary School Teacher Certificate (Type A). Students acquire the specialist knowledge and practical skills to encourage growth in children and, most important of all, the passion for being an educator.
Department of Fashion & Housing Design
Focus: To study total design in two areas vital to everyday life, clothing and housing.
Kobe is a self-declared City of Fashion. Kobe City has an ethos of being one step ahead when it comes to clothing and housing. Teaching and research is carried out in a manner closely related to people's everyday lives in two areas of design. The areas encompassed by modern fashion and design range from clothing products and housing to urban space and lifestyle. Study in this department is connected to creation and innovation for the future, a colorful and rich day-to-day life, and successful student careers after graduation.
Employment by Type of Business(Students graduating March 2017)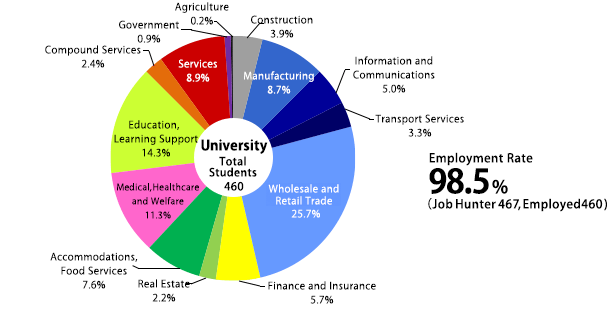 Campus Facilities
The Chapel (Building No. 8)
Access
Hankyū "Rokkō" train station, JR "Rokkō-michi" train station and Hanshin "Mikage" train station are all serviced by direct trains from major city districts including Kobe, Sannomiya, Osaka and Umeda. Kobe Shoin is also serviced by a direct bus service from Hankyū "Rokkō" train station and JR "Rokkō-michi" train station during term time.